In the Southern Hemisphere, Sophie Jovillard takes to the ocean on an unforgettable journey between Sydney and Melbourne. Head to Australia, the country-continent at the end of the world to see this new issue of "Echappées belles" to discover on Saturday night, 9 pm, on France 5.
Head due east! Welcome to Australia, this massive 7,690,000 square kilometer continent located at the other end of the world, where nearly 26 million Australians live. And it was in Sydney, a city in perpetual evolution, that Sophie Gouvillard began this remarkable journey.
The Backpacker takes you on a very special visit to the city's iconic monument: the Opera House. Created by Jørn Utzon in 1957, inspired by the sailboats that sail in the bay, this stunning architectural building was commissioned forty years later by another architect, Peter Hall. Today, the Sydney Opera House welcomes artists from all over the world, and on its legendary stage plays operas as well as theater or symphonies. After a meeting with the costume designer, Sophie Jouvelard will go on stage to do some singing! And for one of the most beautiful views of the Opera House, head to the Harbor Bridge, this giant metal bridge that symbolizes the city, which spans the bay between Melsons Point and The Rocks, Sydney's oldest neighborhood, where the Aboriginal people lived. And where the British settlers settled. Today, it is very touristy, and among the restored old buildings, many restaurants and shops have been established.
If Sydney is a cultural and historical city, it immediately positions itself as the capital of sport. Here, we take advantage of the sunrise to swim, surf, ride a bike. For Australians, sport is a true philosophy of life that they practice in communicating with nature and the ocean. And with its 60,000 km of coastline and 12,000 beaches, there is room for everyone! Therefore, nature is naturally the queen with a population density of around three inhabitants per square kilometre. Heading towards Melbourne, give way to enjoying the great outdoors. From spotting wild bush to kangaroos, Sophie Gouvillard also goes to meet residents interested in preserving this fragile nature, and you'll also learn about the Aboriginal rituals that celebrate this very precious land.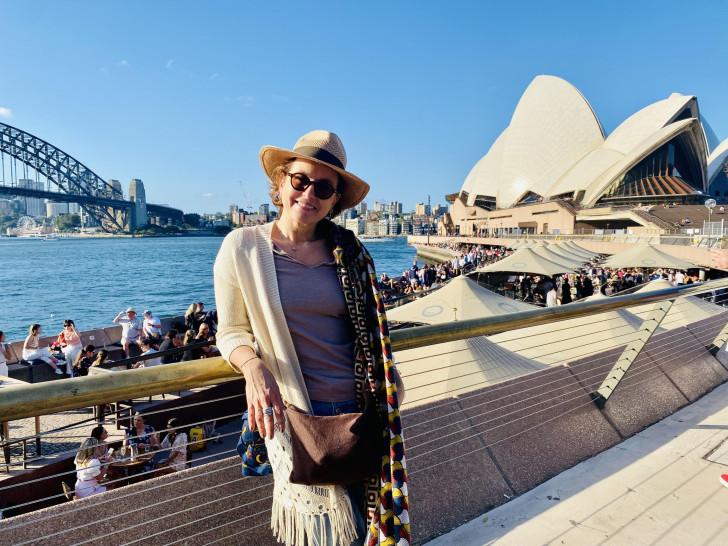 Great Getaways: Australia, on the road to the ocean
Welcome to Australia, this enormous rural continent of almost 7,690,000 kilometers.2Located on the other side of the world. Almost 26 million Australians live here. The population density is about three people per square kilometer, which contributes to giving a sense of freedom in an endless space. In this show, Sophie Guvillard takes you on a journey between Sydney and Melbourne, the two most famous and emblematic cities in the country. You will discover a population that is very connected to nature. In fact, each of these major cities has access to the ocean and proximity to very wild nature. Between these two urban spaces: bushes, main roads and of course kangaroos! You will discover a destination with powerful landscapes and yet very fragile nature. In New South Wales and Victoria, Sophie takes you to unique Australia! What is the Australians' relationship with the nature that surrounds them? How do they live in harmony with, protect and enhance their environment?
reports
Sydney, the City of Athletes / Australia's Unmissable Beaches / This Great Sun / Australia on the Road / Life After the Fire / Melbourne, the Greek City.
The Magazine (90 minutes – 2023) – Presentation Sophie Guvillard – completion Vincent Chavard Photo reporter Jeremy Bonafonsi – production Boo Job!with participation France Televisions
Broadcast this Saturday, May 27 at 9pm on France 5
Watch and review france.tv
Sweet Escape: Japan of Cherry Blossoms
after"Australia, we continue to head east with our stop in Japan.
Japan fascinates as far as it seems. Sacred places blend with skyscrapers to create one of the most exceptional landscapes. The country, which combines a love of nature with constant technological innovation, between the bustling life of Tokyo and the tranquility of the pools – hot baths – seems to be a place of contrasts and contradictions. Spring is arguably one of the most eye catching and enjoying the magical cherry blossom season. Hanami, this celebration of renewal in the shade of sakura – the cherry blossom trees – is a national event in Japan. Ismail Khalifa begins his journey to Tokyo in the popular Yanaka district …
The Magazine (90 minutes – 2020) – Presentation Ismail Khelifa – completion Damien Borago Photo reporter Aurelia Michonne – production Boo Job!with participation France Televisions
Broadcast Saturday, May 27 at 11:30pm on France 5
Watch and review france.tv
Posted May 24, 2023